Description
Welcome to PRIVO – A revolutionary wireless microphone system unlike any other, engineered for using speech enabled technology in less-than-ideal conditions.
Privo [ pree-voh ] is a wireless handset that eliminates background noise and makes the sound of your voice inaudible to those around you while simultaneously providing a crystal-clear voice signal – allowing you to talk, listen and document privately without interference. Built from premium materials that are durable and stay comfortable all day. Privo is a pocket-sized sound-booth providing complete privacy and noise cancellation at home, in the office or out in public.
Privo comes standard with Bluetooth 5.0 connectivity and is compatible with IOS and Android smartphones, tablets, computers or any wireless microphone enabled device. It can be used in conjunction with any voice application or speech recognition software such as Dragon. Use it to make private phone calls, verbally compose emails, text messages and documents, interact with smart devices such as Alexa- all without being overheard! The rechargeable lithium-ion battery provides up to 12 hours of continuous talk time and if it happens to run low Privo can be used while charging. Plug noise cancelling headphones into the audio jack to create your own personal soundproof bubble.
We obsessed over every detail so you can seamlessly connect to your device and talk privately all day. Our quiet cushion foam face piece physically blocks noise and provides pillowy soft comfort. The ergonomic design allows you to hold Privo comfortably in either hand or, if you prefer use one of our hands free options. An internal breathing port allows you to speak and breath naturally without skipping a beat.
 –  Protect your personal and confidential conversations wherever you are.
 –  Provide clear and consistent audio quality – at work, in restaurants, open offices, in transit – or any noisy or public place.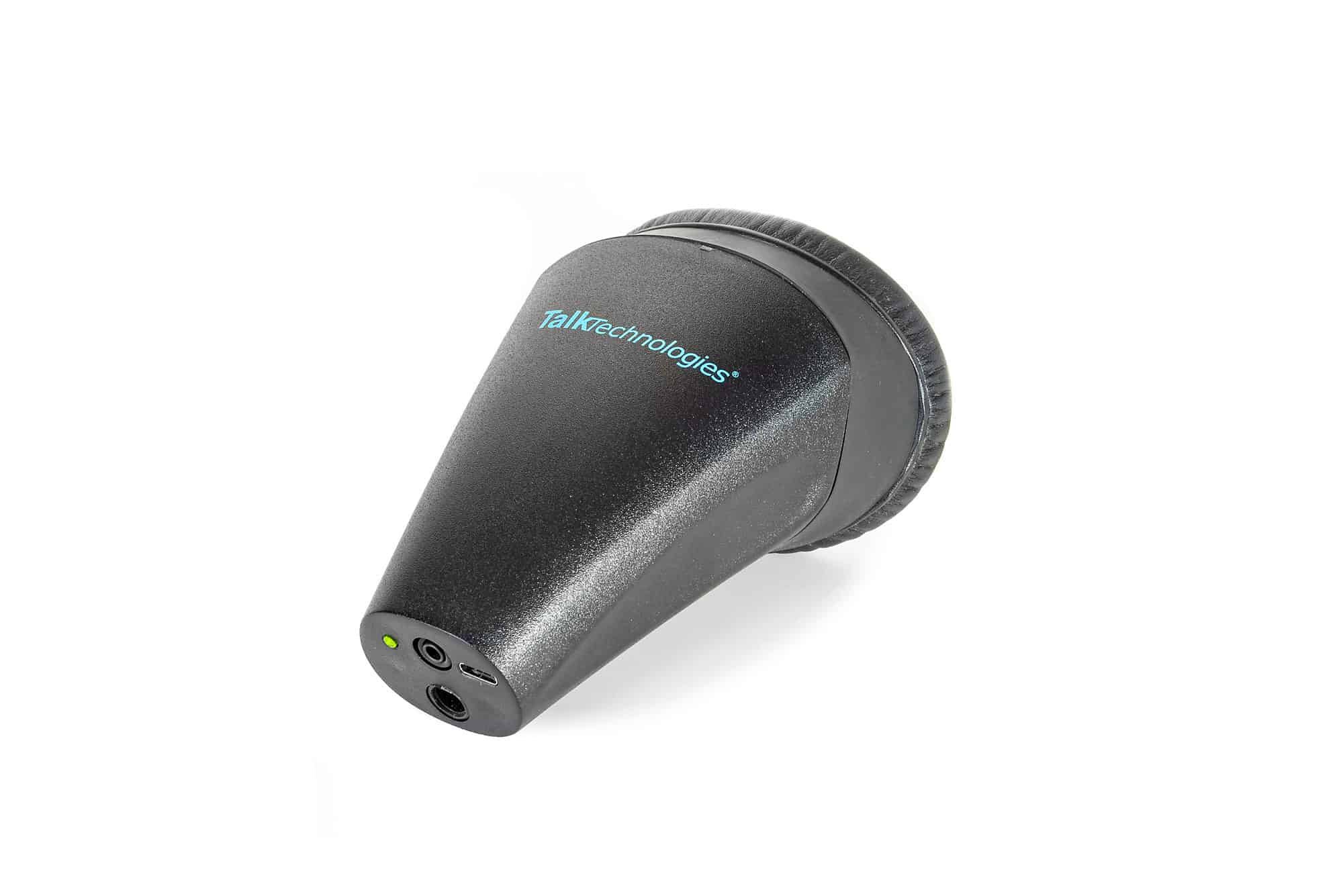 – NO more "muffled and confusing" whispering.
– NO more ambient noise distractions for your listeners and recordings.
– NO more disrupting others around you.
– NO more cords or adapters!
Who uses Privo?
Anyone that requires privacy when speaking on the phone or verbally documenting information
Individuals that require clear verbal communication in loud environments
Speech recognition users that demand perfect accuracy rates
Teachers, students and school staff to silently communicate in real time during campus emergencies and school lockdowns
Workers in home offices, open spaces and public places that need privacy and/or noise cancellation
Physicians and healthcare professionals, Privo is the only microphone that complies with HIPPA privacy and security rules
Interpreters for simultaneous language translation, Privo is a pocket sized sound-booth
Police, military and security personnel for communicating and documenting privately. Privo completely eliminates the possibility of eavesdropping or lip reading
Job trainers and supervisors in noisy work environments
Students verbally taking voice notes and using speech recognition technologies in complete privacy
Anyone that requires total privacy and/or noise cancellation while using their voice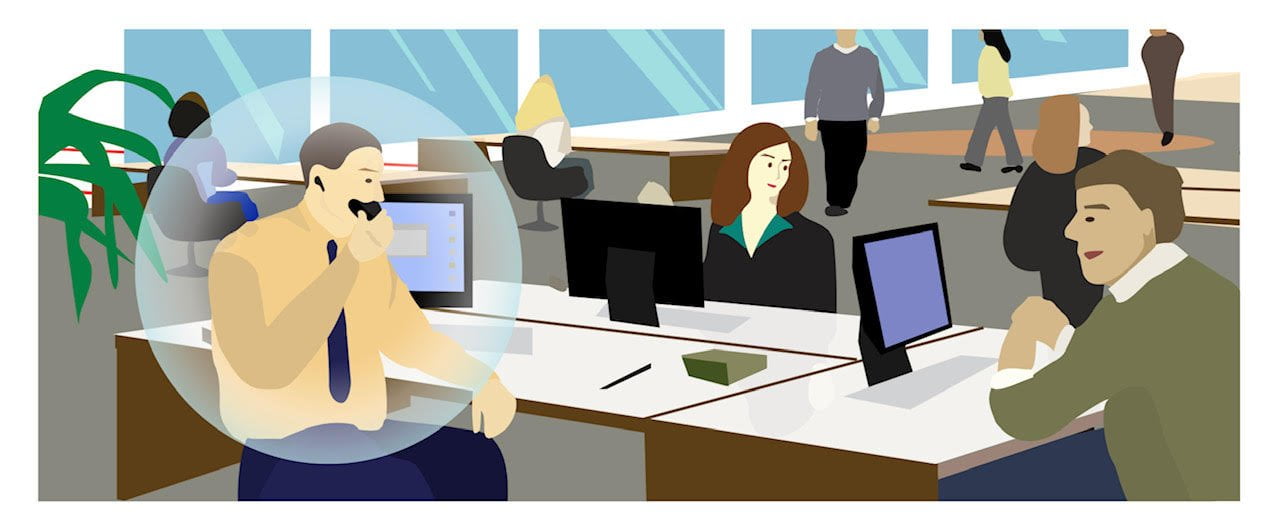 Privo details
Uncomplicated/user friendly technology – simply  power on, connect to your desired device and begin speaking privately within seconds
Seamless connectivity- Bluetooth version 5.0 with range: Up to 30 m (100 ft)
Privo is compatible with IOS, Android, Windows, Mac and all speech recognition software and apps
Wireless SmartMic technology- the industry's most accurate microphone provides crystal clear sound
Audio- standard stereo 3.5 mm. headphone jack and included single ear bud allow you to talk and listen naturally
Privo has advanced audio capabilities which allow for streaming audio such as music from your smart device
Talk longer- Class leading battery gives up to 12 hrs active use on a single charge
Privo can be used while charging – mini USB-C charging cable included. Complete charge time 2 hours
High quality materials- Lightweight construction and soft leather enhance comfort and durability
Ergonomic design- Elliptical ergonomically designed face piece, for a superior acoustic seal
Removable and interchangeable parts for cleaning ease and personalization
Ready to travel- Privo is pocket sized for easy transportation
What's in the box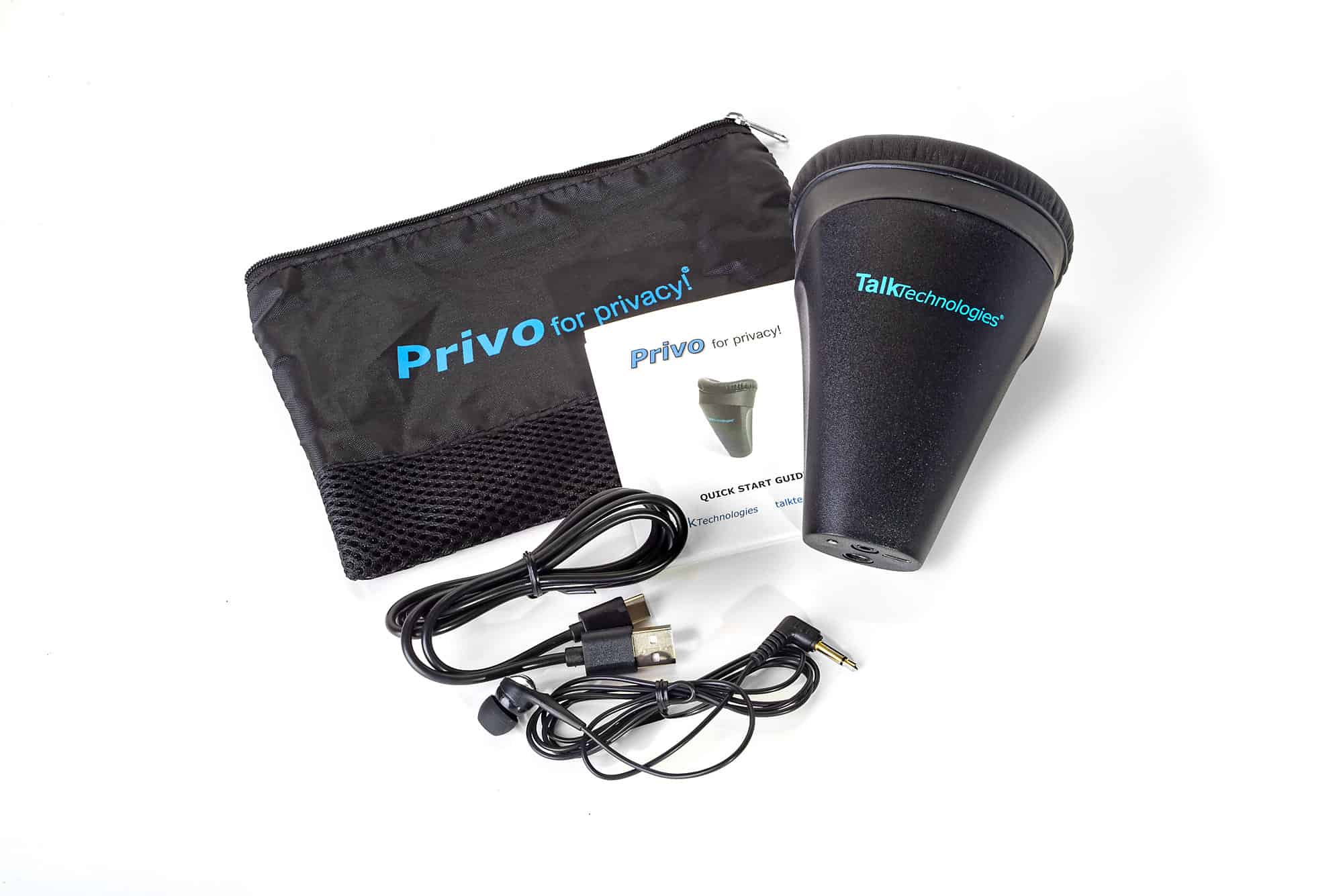 Privo – wireless privacy microphone
Single earbud earphone
USB charging cable
Carry Case -lightweight & breathable
Quick start guide
FCC. CE, ROHS, USPTO Patented
All microphones come standard with a limited 1 year warranty and a 30 day return policy from date of purchase. We pride ourselves on having the best products, warranty and customer service in the industry. Please contact us with any questions or suggestions you have.